Logan Plowinske Class on 2024
Social/ Cultural Experiences
Oxford is a beautiful city with a lively student population and cultural diversity. One of the social highlights that I experienced in Oxford was going to University Park with some of the other international students that lived in Logan House. The park is a great place to hang out during sunset and there are often other students there, playing games or having a picnic. Luckily, we had beautiful weather in Oxford so my friends and I spent a few evenings in that park.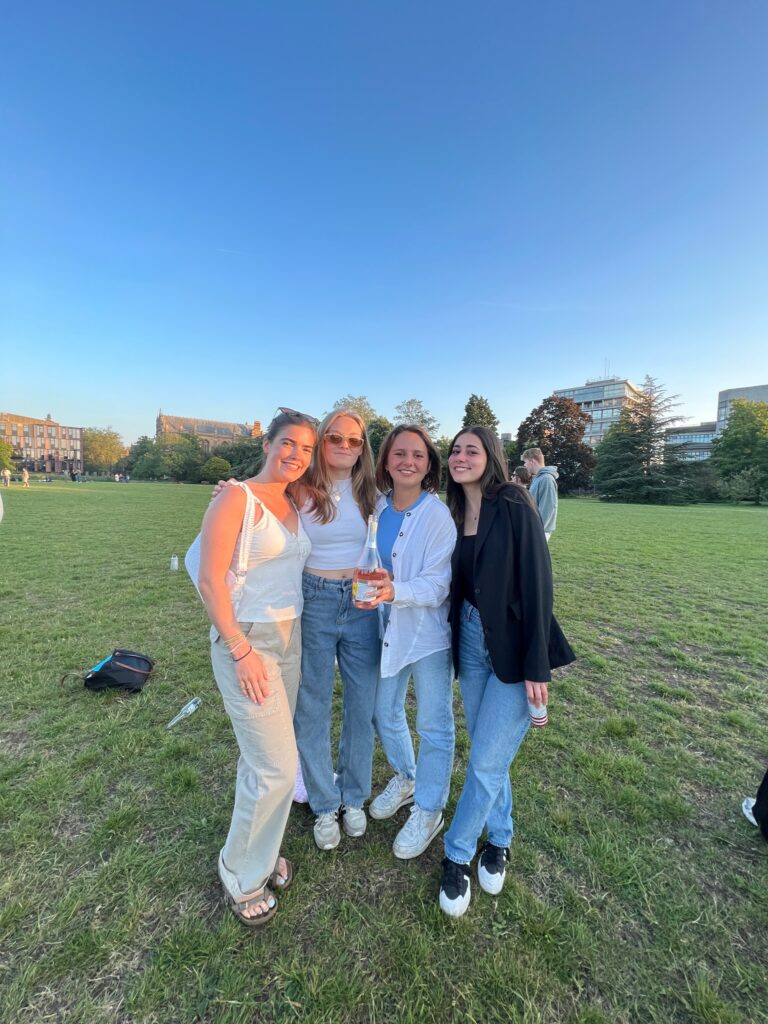 Some of my friends and I in University Park
London
Other social and cultural highlights of the trip would be our trips to London. London is a very diverse city, which makes it fun to explore all the different parts. We took three trips to London, as a group, and my friends and I decided to go to London during our free weekend. One of my favorite place in London that we visited was Covent Garden. There are lots of beautiful shops and places to eat! Another fun place in London was the Borough Street Market, which is a huge covered market with various food stands. My friends and I went to the chocolate covered strawberries stand and it was amazing! One of my favorite excursions in London that we did as a group, was our trip to Shakespeare's Globe Theater to see A Midsummer Night's Dream. The Globe was much smaller and more intimate than I imagined. We were lucky enough to have seated tickets and the atmosphere was a lot of fun, and the actors are very talented!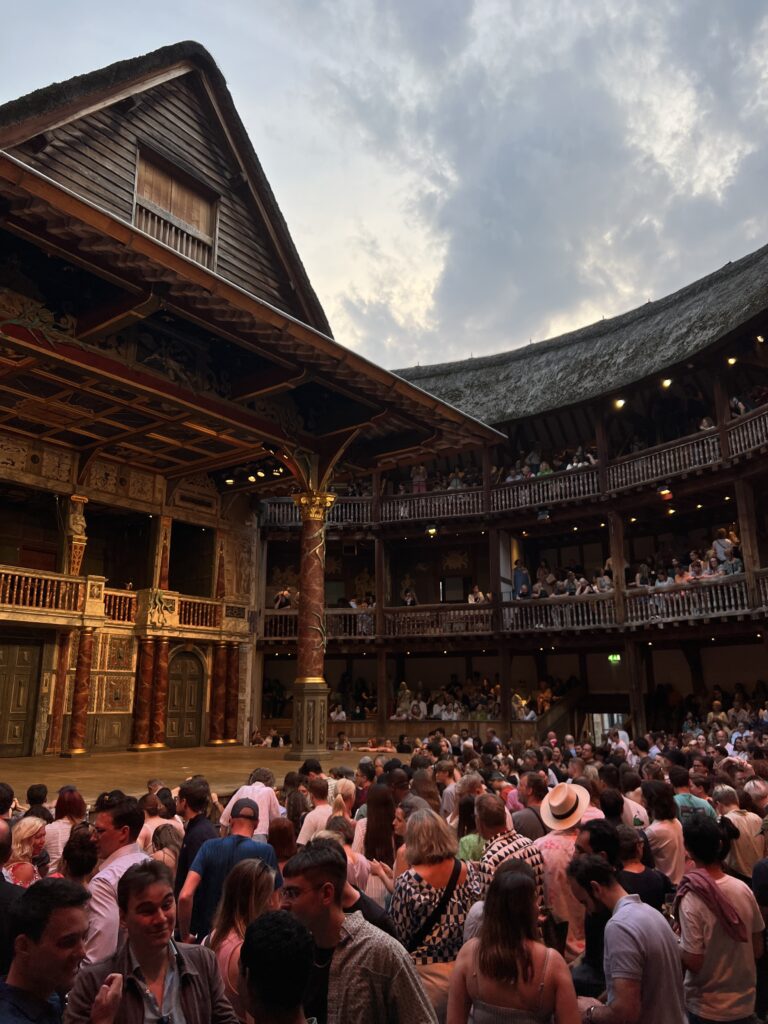 The Globe Theatre
Class Highlights
The class-related highlights of the trip would have to be the excursions we did, that related to the material we were reading. I really enjoyed our trip to Bath, which we took while we were reading Jane Austen's Persuasion. Also, while we were reading Alice's Adventures in Wonderland by Lewis Carroll, we visited Christ Church to see the garden that Alice and her sisters grew up playing in, which was very beautiful.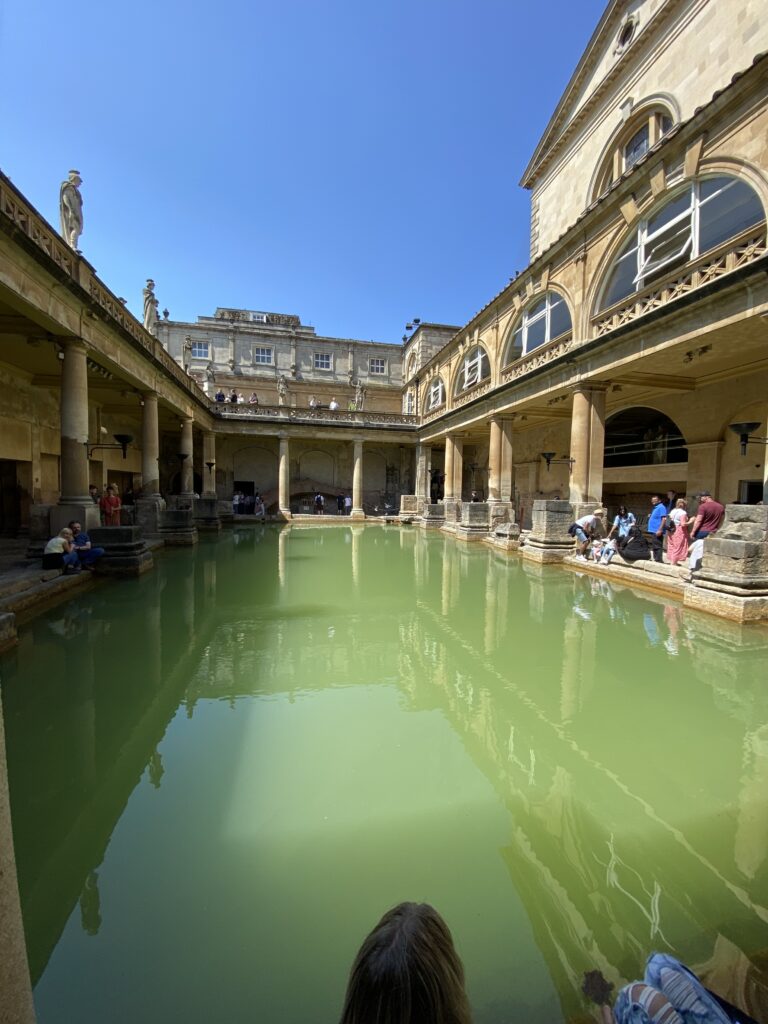 The Roman Baths in Bath
On this trip we saw the Roman Baths and parts of the city where Jane Austen used to live and spent time. Bath is where Austen's book Persuasion took place.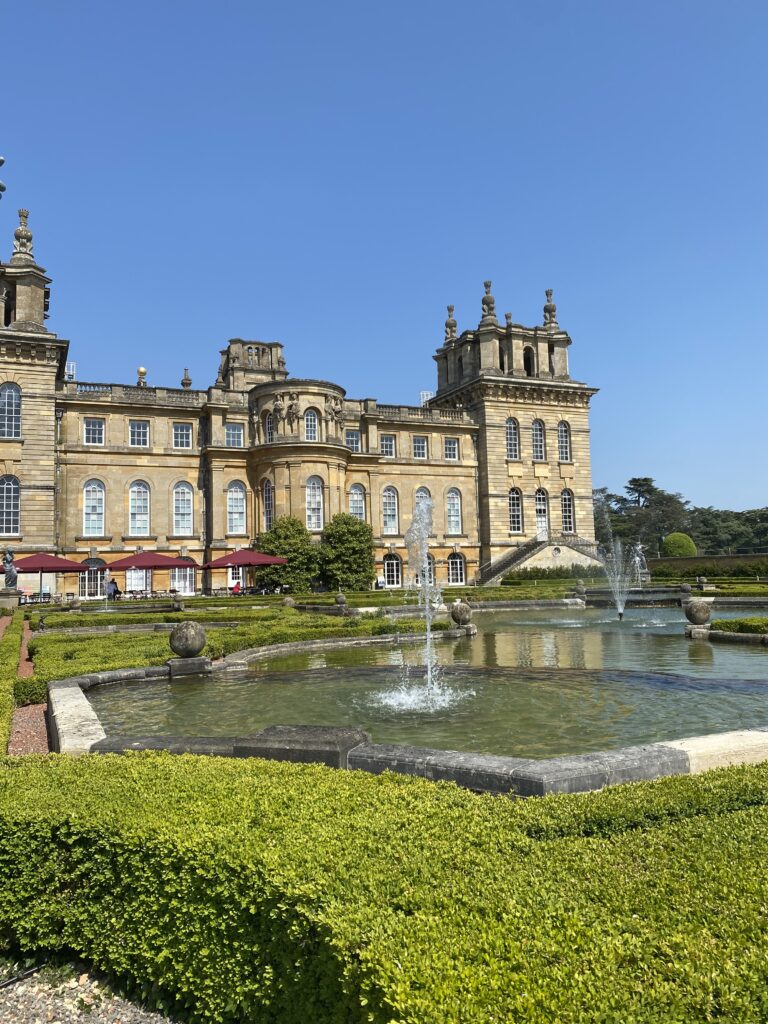 Blenheim Palace, where Winston Churchill grew up
My favorite aspect of the Oxford trip would be meeting new people. I did not know any of the other students coming into the trip and I quickly grew close to almost everyone. I was surprised to see that most of the other Salve students went on the trip simply because they wanted to experience something new, instead of coming with their friend group, most people came by themselves. I also loved getting to know the other international students that lived in our house, and I have become great friends with some of them! Lastly, the Salve professors, Mr. Sacco and Dr. Gomaa were a great part of the trip as well. They truly cared about keeping us engaged and giving us a great experience in England.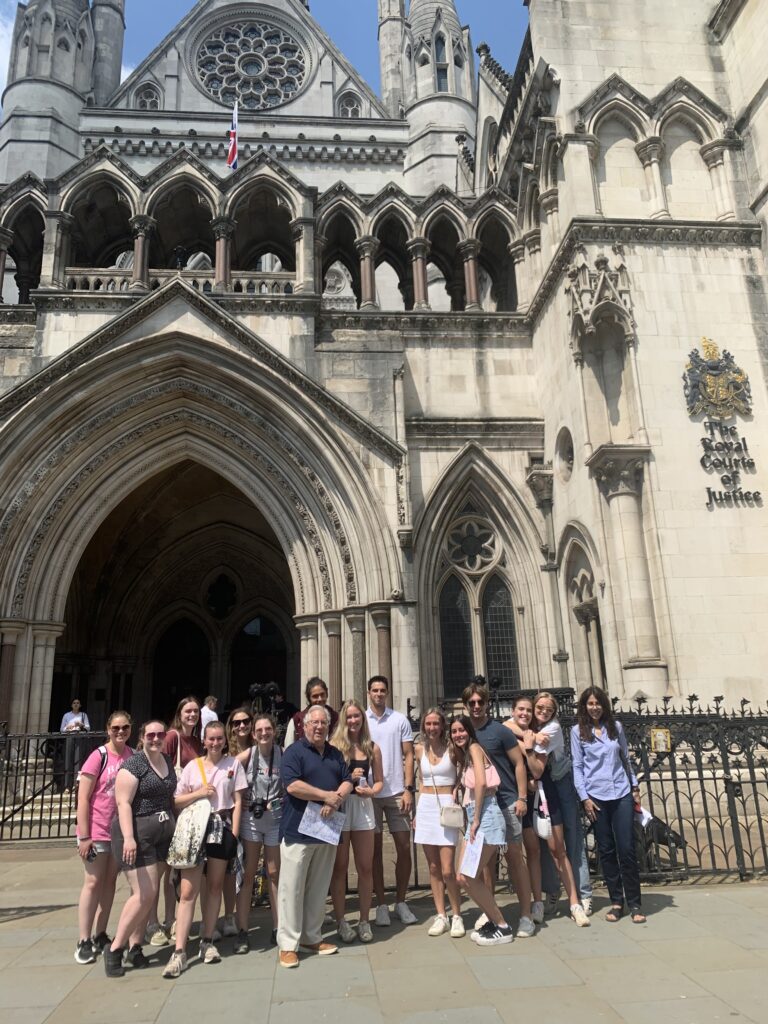 Our group outside the Royal Courts of Justice in London
How to explore a new city!
travel in a group
use google maps
walk as much as you can
The most useful lessons I learned on this trip was the best ways to explore a new city. In my opinion, the best way is to travel in a group because with more people, you will explore the city based on what you, and the people around you want to see, rather than just going to the places you want to go. This is a great way to diversify your sightseeing, as well the restaurants you eat at and pubs you go to. Another lesson I learned was that this trip is what you make of it, so use your time wisely. The 4 weeks goes by fast!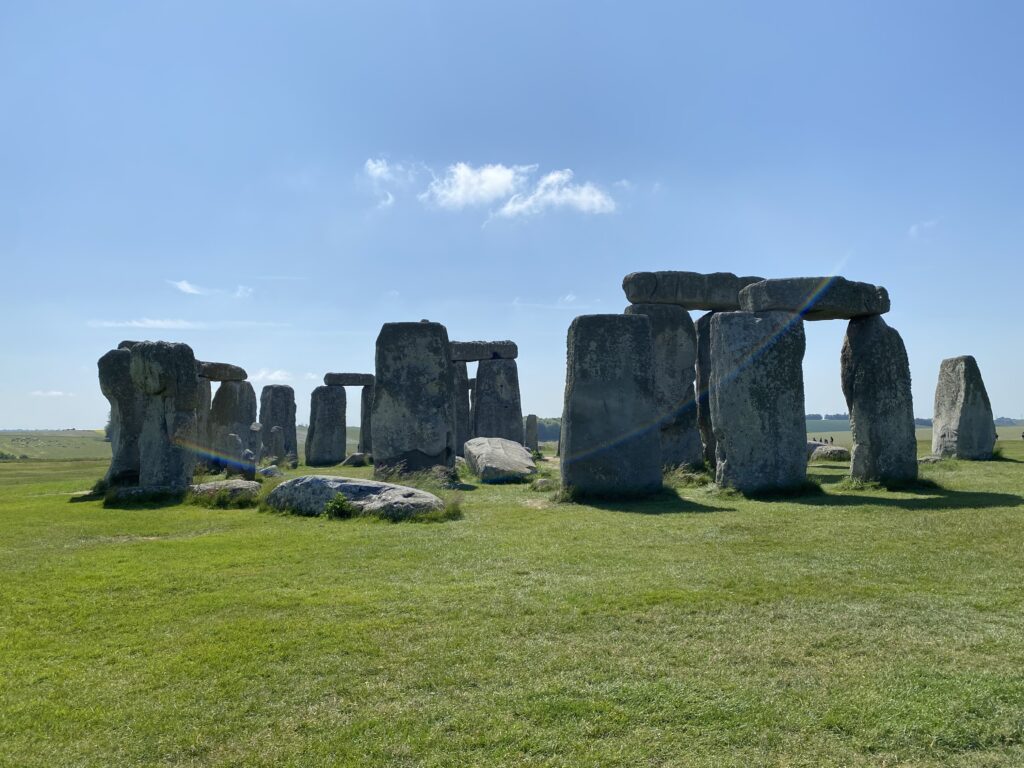 Stonehenge
Safety
Stay together
Students are given a lot of independence on this trip so it is important to stay safe and be responsible. Most of our weekend excursions started with a bus ride at 8:30am, so remember to set a few alarms before you go to sleep the night before! As far as staying safe, my best advice would be to stay with at least one other person. This is especially important for people that do not have cellular data or service on their phone. In my friend group, about half of us bought data abroad, and the other half did not so it was super important those without the ability to use their phone, stayed with the group.
Google maps
When I was exploring Oxford and London it was really nice to be able to use Google Maps to see what stores and restaurants were around me. For example, if we wanted to eat Italian food that night, we can search by Italian and we were able to find some great restaurants this way.
Money
Cash is not very common in England, in fact some places do not accept cash. Almost all places have a tap machine for your card. Also be sure to call your bank and let them know you will be traveling abroad, otherwise you will have problems getting your card to work. The most common credit cards in England would be MasterCard or VISA, Amex is not very common and some places do not accept it. Don't bring cash with you, if you go out to a pub or a club. Using a card is much easier and they may not take cash, also cash is very easy to lose.
I am so grateful to be given the opportunity to go on this trip. I had such an amazing time and I can't wait to visit England again. It is such a diverse place with so much rich history!