November 14th, 2022, was Liadan and my first day at COP27 as Salve's student delegates. This year, the annual United Nation's Conference of Parties met in Sharm el-Sheikh, Egypt. We moved into Mövenpick, a beautiful seaside resort, at 4:30 am. Our hotel room balcony boasted a breathtaking view of the Red Sea. Watching every sunset and sunrise I could catch quickly became one of the trip's highlights. The vista was unlike anything I have ever seen: sun glittered over the Red Sea and framed mountains stretched along the horizon.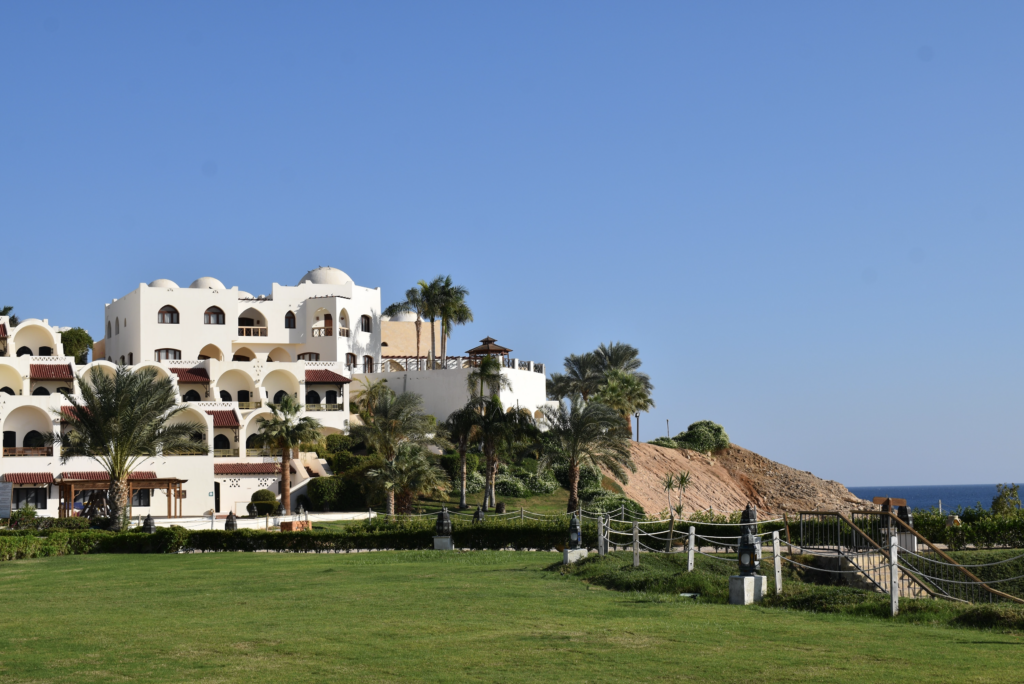 After a quick nap and brunch we met Dr. Raymond for a tour of the Blue Zone. Dr. Raymond and Dr. Gomaa, the other half of Salve's delegation, arrived for the start of the conference a week prior to our arrival. They did a fantastic job of teaching us how to make the most of our time at COP27 in Egypt. I am incredibly thankful for their expertise and company. They knew the ins and outs of everything from the hotel's private beach hours to the conference center's bus schedule and routes.
Transportation was provided for free on a carbon-neutral electric bus designed by the Higer bus company and Egypt's G Company. Buses constantly were filled with people from all around the world going to and fro from Sharm el-Sheikh's hotels and the conference center. Our first stop was the Blue Zone, where we received our UNFCCC observer badges.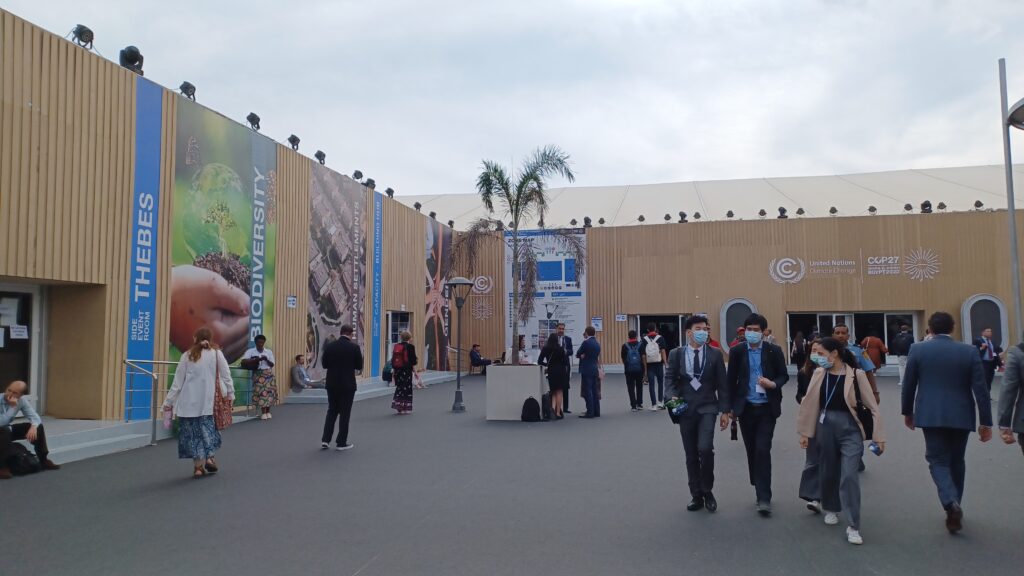 Once we had our badges we were free to explore the Blue Zone. The sheer size of the venue was amazing: there were nearly 100 pavilions representing NGOs and nations worldwide. Our Salve delegation decided to dive in and find an event related to the day's theme: Women and Gender. We quickly spotted a list of panels discussing gendered approaches to climate change at the United Arab Emirate's pavilion.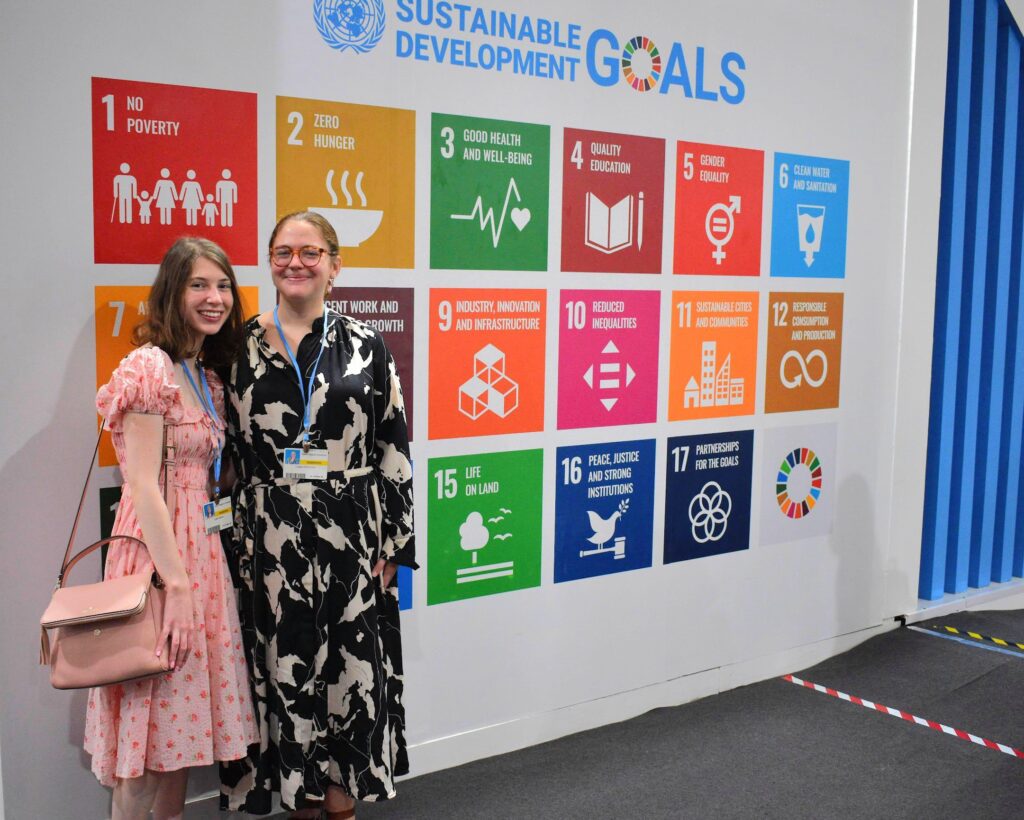 The United Arab Emirate's pavilion hosted the first panel discussion we attended: "WiSER Wisdom Series: The Need for a Gender Transformative Approach to Climate Change". The keynote speaker for the series was Sheikha Shamma bint Sultan bin Khalifa Al Nahyan, the Executive Director of the UAE Independent Climate Change Accelerators. Her work with the UICCA aims to "collaborate, cooperate, and innovate" towards a shared goal of a "safer and sustainable future for all".
Sheikha Shamma bint Sultan bin Khalifa Al Nahyan expressed her utmost concern for women and girls who are disproportionately impacted by climate change. She shared stories of women's resilience in Sudan and Pakistan in the face of climate catastrophes. She made an impassioned call to action for increased access to education for women, more career opportunities in STEM and leadership roles for women, and improved quality and access to women's healthcare. Sheikha Shamma bint Sultan bin Khalifa Al Nahyan's message brought to mind our Critical Concerns of Mercy. The call for increased care for and inclusion of women in the midst of climate catastrophes especially speaks to the heart of Salve and the Sisters of Mercy's concerns for Women and the Earth.
Once the UAE panel ended our delegation explored the rest of the Blue Zone. We perused the NGO booths along the building's perimeters and took another look at event listings in the pavilions. Because it was getting late and we were jet lagged from travel we decided to take the bus home and get a head start on our plans for the next day, Energy Day. We were pleasantly surprised on the way out of the Blue Zone when we noticed an environmental fashion statement. A woman donning a cape made of yarn that resembled corals of every shape and color smiled at us as we made our way over to compliment her outfit.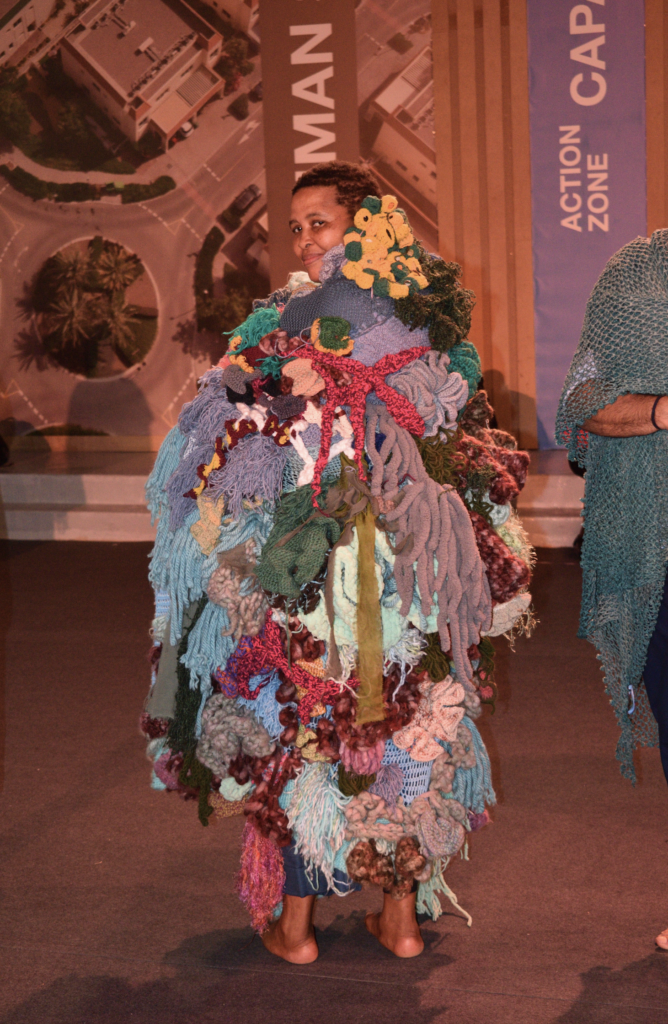 Her name is Mpume Mthombeni and she acts for Empatheatre, a South African based theatre-activist troupe. Her character, Nolwandle, teaches people about marine life by sharing an isiZulu folk tale with the help of an enchanted coral blanket. Mthombeni and her colleagues were invited by the UN to perform their play, Lalela uLwandle, "Listen to the Sea". It invites people to support conservation for South African coastal communities via environmentally just ocean governance. To learn more about Empatheatre and their projects, please visit this link: https://www.empatheatre.com/lalela-ulwandle
The writer and director of "Listen to the Sea", Dylan McGarry, has an uncle from Newport. I was surprised to learn how small a world it is after all! It was a pleasure and privilege to meet so many passionate artists and activists at COP27.
I would like to sincerely thank Salve Regina University, especially Dr. Theresa Ladrigan Whelpley, Mary Beth Pelletier, and Erin Fitzgerald for organizing the delegation and preparing us for the journey to COP27. Without your help this learning experience would not have been possible! It was truly the trip of a lifetime.
Cailin Martin
B.A. Environmental Studies, 2024